Handmade and shopping small is a luxury…and it's worth it
Handmade can be a luxury for everyday.  
I've been thinking a lot about the value of handmade recently.  The deluge of "Shop Small" emails I've received recently only added to the many ways we're told that we can support local and handmade this holiday season.
There were also a couple of blog posts aimed at small businesses got me thinking a little more broadly about this idea.  A tweet by Twitter co-founder Jack Dorsey got the wheels churning even more,
"No business wants to be called "small" (or "big"). Neighborhood businesses may aspire to be global businesses.  Shop locally, think globally."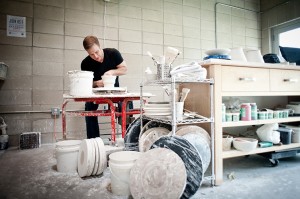 I spend a lot of time in my studio striving to make beautiful objects.  These simple yet beautiful pieces are many of the items that we use everyday in some way.  Perhaps it's a mug for your morning coffee or a bud vase that sits on your bathroom vanity.  Are these objects in our lives unimportant because we use them every day?  Should those items be cheap because of the mundane tasks they're used for?  I don't think so.
Personally, I like living with nice things.  One morning it could be the mug, made by a friend, that I choose to start my day with.  Other days, it might be as simple as the pair of shoes I put on that I bought after coveting them for months.  The things we choose to surround ourselves with do matter.  How and why they're made matter as well.   We can't always choose to live with something purely because it's handmade or because it's local (though I try when possible).
Many mornings I stop at Houndstooth Coffee for a macchiato.  During that one stop, after 3-4 sips of that spectacular coffee it's become a different kind of day.  I use the same beans at home, but that experience is something on a whole other level.  Yes, I'm shopping "small" by drinking my coffee there but that's not why I find myself there time and again.  I can have coffee anywhere and I can order from a "local and small" coffee house anywhere in Austin.  I'm going to Houndstooth because that cup of coffee is better than just about any cup I've ever had.  And every time I'm there, those few minutes become one of the best moments of my day.  This is just one example that shopping "small" isn't as important as shopping small and well.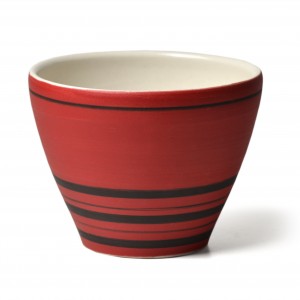 So, if you're shopping around for a gift this year, please ask yourself…are you buying small out of a sense of obligation?  Do you only feel the need to support an independent store or artist or are you purchasing something beautiful that's been designed to enhance your everyday living?  My work is truly done when you're day is better because of what I've made.