Make. Eat. Drink. Recap
Wow…Thanks to all who came out to join us for Make. Eat. Drink.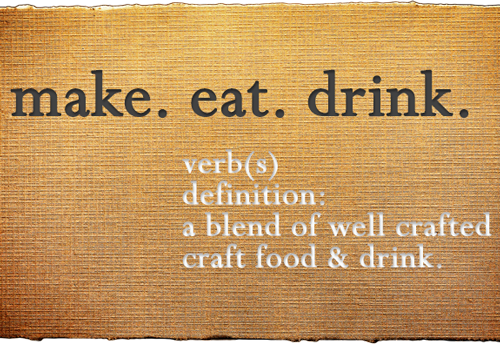 Make. Eat. Drink. is an idea that has been percolating for quite some time.  You can check out Matt McGinnis' preview of the event on his great blog What Are You Drinking?  The food scene has just exploded here in Austin in the time that I've been here and it was great to see the collaboration between the different disciplines for the event.
I have to say…the evening was a hit.  Many thanks to our hosts Shara and Leigh from Eastside Glass Studios & Boom Gallery.   The only downside is that I was so busy that I didn't take any pictures of the event itself.  Here's how the evening transpired:
Guests arrived and quickly spotted the shelf of cups made by Ryan McKerley, Shara Funari, Leigh Taylor Wyatt and me.  We each had about 10-12 cups for their choosing (the cup was included in the ticket price).
After our guests had a cup in hand, they headed to the bar which was custom-made for the event by Petrified Design.  Behind the bar, Adam Bryan was mixing up some of Contigo's famous cocktails (I personally chose the El Pepino and it was delicious…both of them).
The room was absolutely beautiful with and blown glass, ceramics, painting, furniture.
Shara & Leigh curated an incredible collection for their new gallery.  There was an amazing dining table made by Brian from Engrain Furniture Designs.   Chef Andrew Francisco of the soon to open Mettle Eastside Bistro served up his delicious Ceviche & tasty Profiteroles.  Of course, all the goodies were served on handmade wares.
Guests mingled, talked about the cups they chose and enjoyed the rest of the evening.
I loved the way the food, drink and creative communties came together for the event.  Thanks to Ben from Contigo, Bridget Dunlap from Mettle and all of the artists who helped put the evening together.  I know that we'll be seeing some more Make. Eat. Drink. events in the future.  We're already brainstorming the many possibilities.