About Kreeger Pottery
Who
The summer after interning on Capitol Hill, I was a young American Studies major at Skidmore College and had decided to take an extra class during the summer in order to enjoy the bounty of Saratoga Springs.  I swiftly traded my suits & blazers from the previous summer for jeans & t-shirts that would be covered in clay from then on.  Spending every available hour making pots in the studio I occasionally missed an American Studies deadline or two but I did still graduate with a BA in American Studies.  I also picked up a minor in ceramics and a passion for clay that has never ceased
After 12 years of owning a contemporary craft gallery on Cape Cod, I now live in Austin, TX with my wife and 3 children.  I'm honored to be one of the five hosts of the nationally recognized Art of the Pot Studio Tour.
Why
In my home, mornings begin with a cabinet full of memories.  Each mug I have to choose from has it's own story.  I'm reminded of a mentor, a friend, Massachusetts, or an artist I dream of one day meeting.  I love watching our guests open that same cabinet as each cup is carefully studied.  It's not long before a friend finds the one that speaks to them.  I make pottery because I think the objects we use on a daily basis are as important as what they hold.
I think that a meal with friends that you've spent hours preparing calls for dinnerware crafted with the same care.  I think flowers picked fresh from your garden look better in a vase you've picked as well.  I think you deserve to know the maker of the objects you use every day.
-Keith Kreeger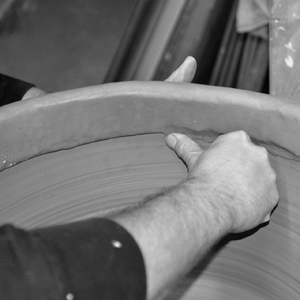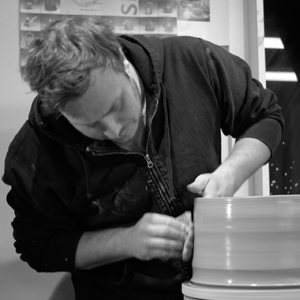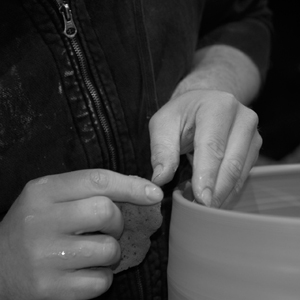 During Keith's time on Cape Cod from 1998-2009, the gallery at Kreeger Pottery grew from simple pottery shop to one of the premier sources for contemporary crafts on Cape Cod.  Kreeger Pottery represented artists working in clay, fiber and jewelry.  The gallery hosted numerous group shows featuring notable ceramic artists including Toshiko Takaezu, Daniel Anderson, Julia Galloway, D. Leslie Ferst, Regis Brodie, Charity Davis-Woodard, and Mark Shapiro.  Other artists included jewelers Kiwon Wang, Judith Neugebauer, Julia Hill (Zingarelle), Lisa Crowder and world-renowned fiber artist Randall Darwall.